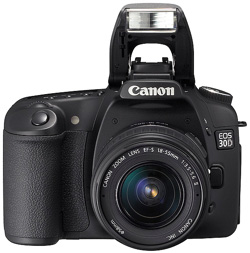 Gear!
If you've ever read any of my other posts, you have probably realized that I am a man who loves talking gear. One of my more hardcore gadget-based obsessions is cameras. Traditionally, I have only been interested in video cameras, as I was generally under the following school of thought – "Why would I want to have this slow little device that can only take single frames when I could be creating full-on movies!?" After all, would I want to bring a pistol to a machine gun fight? Of course not. Rapid fire is king!
I love going to the movies because, at the theater, we get to experience incredible things acted out in front of us. How many times have you really been excited over a slide show, and would you ever actually pay $13 to go see one in a theater? Perhaps you would like to shell out $17 to see that awesome slide show in IMAX! OK, well – I have hated a lot on the simple point-and-shoot tactics of still frame cameras, but the truth is, I have come to appreciate them a lot as of late. In fact, I have come to appreciate a lot of aspects of photography lately. Why? Well, because you can transform these compact little cameras into amazing HD video cameras of course! (Evil laugh)
"What does all this camera business have to do with Hideo, man?!" Glad you asked. Cameras have been a big part of Hideo from the start! Our first YouTube promotional video was filmed on a Canon XL1 camera (proof that SD can look damn good). And, of course all those amazing Hideo-ite pictures you see in the Hideo concert programs were taken by our very own Gar Der and his awesomely mustachioed padre.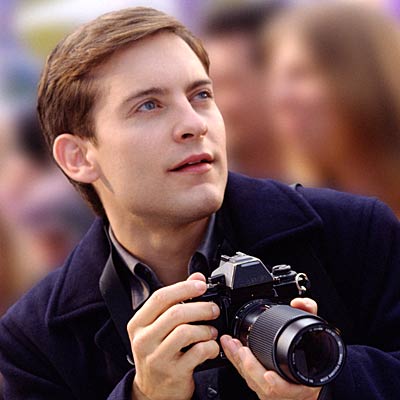 Of course, as Hideo has grown over the years, so has the gear! My Canon XL1 no longer chronicles all things Hideo, because we now have the official Hideo camera. SD is a fine, fine thing, but we all sort of felt it was time to make the jump to HD. The beast we currently use is a Canon VIXIA HF M31, and it takes extremely nice videos, whilst remaining ultra light and compact. Yessir, everywhere we go, this bad boy comes with us and delivers two shades of cinematic bliss.
Not to be outdone in the video department, I also knew it was time to go HD for my own film making. Of course, the thought of buying a new camera can be a scary one… primarily because of the crazy prices. Think of it this way – my standard definition Canon Xl1 camera is still worth around $800 USED. How in the name of Zeus' beard would I ever afford a new HD camera? Thankfully, there are sneaky ways to get around the exorbitant prices.
I knew I wanted to have the best video quality possible, but there was no way I could justify dishing out $6000 for a Sony HDR-FX1! Seriously, I could buy a decent used car for that much! After much research, I did the unthinkable: I flipped the bird to camcorders and went with a DSLR. They are light, compact, easily used in guerilla film-making, and have exceptional high-def film quality. While I'm extremely pleased with my decision, it definitely comes with a sharp learning curve. For the first time in my life, I've had to really think hard about aperture, ISO, shutter speed, white balance, manual focusing, and most of all, audio! I can't tell you how much research I have done on all things DSLR and the feasibility of using them to make videos. My goal here today is to help you aspiring filmmakers out there make some great decisions, know what's available, and get it for cheap (well, as cheap as possible)! There is so much we can talk about on this subject, so I will just try to keep it short and to the point.
If you are going DSLR for video, you will probably want the following:
A great DSLR body (mine is a Canon 7D)
Ideally 3 fast lenses (I use a Tokina 11-16, Tamron 17-50mm, and a Canon 55-250 to cover all the main ranges)
Several backup batteries (3 is a good, safe bet)
Several flash cards (these are pricey, but you'll never have to spend another dime on tapes again! I recommend getting at least 2 or 3 32GB cards)
An external microphone (the Rhode DSLR condenser mic is very popular for this)
A camera bag (stick it to all your Canon or Nikon foes)
An external light for those times you are forced to film in the dark (Neewer makes impressively bright LEDs for a good price)
A tripod and stabilizer
(And then there are plenty of other great things you can get depending on how crazy you want to go)
This is sort of the unpleasant side of going the DSLR route. You will spend a lot less to get the equivalent video quality found in a camcorder, but you do have to stock up on the accessories. The good news is it is kind of fun to build up your rig. It's like building up an old muscle car with the tech of Optimus Prime, and the simplicity of lego connections. Once you've built your masterpiece, you fire it up and get chills when you experience the results.
Speaking of results – I want to pass onto you some great pieces of info: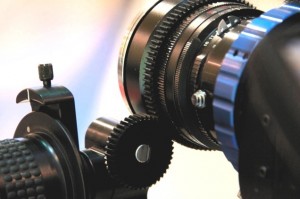 Follow focus (a tool used for greater range/simplicity in focus) can be damn expensive. We're talking $300+! Highway robbery I tell ya. Thankfully, there are small business owners who work extremely hard to bring more affordable products to us aspiring film makers. One particularly awesome product in the works is the $50 follow focus. It's in Kickstarter right now, but it is a brilliant little device that can save your film budget hundreds.
Editing high definition DSLR footage can be massively time consuming. If you are editing on Windows, you might want to consider getting a video editing codec to make editing go faster and easier (Apple has some pretty decent codecs built in for free). A popular choice is Cineform Neoscene, as it converts all of your DSLR footage into an easy-to-edit format, while also making it look even better! Cineform Neoscene is also available for Mac, but the bummer is you have to buy a separate version of the codec for each platform (one for Mac and one for PC… boooo!)
Audio just flat out sounds awful when recorded from a DSLR's built-in microphone. Please do yourself a favor and purchase an external condenser mic, like the one I mentioned above, or consider going with DSS (dual system sound). This is where you record audio from a high quality device and then sync it up with the audio waves recorded from your DSLR. A popular audio recorder for DSS is the Zoom H4n (which you can plug wireless microphones in to and obtain excellent sound quality). Also, if you hate syncing up audio waves (I feel your pain) there is a Final Cut plugin you can use called Pluraleyes, which can do all the hard work for you. Ya gotta love technology! Check out this video for real world application of DSS.
Educate yourself! There are so many cool things you can do with video. Don't think you know it all. Check out that link, if you know what's good for ya, bub.
As I said, I can go on for a long time about all this stuff, but this ought to get you off to a great start. Feel free to ask away if you have any questions. Why am I being so nice? No reason! OK, I'm going to be honest with you: I want you to go out there and develop your filmmaking skills, so that you can one day come and work for Hideo and bring us to absolute stardom! Deal? See Blair? I knew my plan would work!
I leave you with some cool Hideo shots from our last show: