Are you gettin' your board gaming on this Saturday? Well, myself, Chris, and a few other Hideo-ites and friends will be because we're hosting a game day in honor of International TableTop Day!
We don't really talk about board games much (we're too busy playing video games!), but several of my fellow Hideo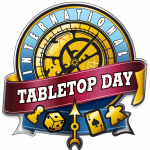 peeps—along with myself—enjoy the more-than-occasional board game, particularly those of European descent (i.e. we're not talking about Monopoly or Sorry, here). And these same Hideo-ites have been known to watch an episode or two of TableTop, so when Geek and Sundry announced International TableTop Day, we agreed to put down our controllers and gather round our red dining table for 9 hours of tabletop gaming this Saturday!
At the top of the to-play list is Cowboy Bebop/Firefly Munchkin. It's really just combining The Good, the Bad, and the Munchkin with Star Munchkin, but actually doing so has been in the works for about 3 years! Around the time I started Hideo, I gave my friend and fellow Munchkin fan Stephen (Hideo sound designer and digital instrumentalist) a copy of The Good, the Bad, and the Munchkin; I owned Star Munchkin and we both liked Cowboy Bebop and Firefly, so I thought what better than to combine 3 of our favorite things? We became very busy shortly after this, however (producing stage productions of anime and video game music and all), so making time to execute our brilliant Munchkin game fell to the bottom of the to-do list.
But this Saturday—in honor of International TableTop Day—we procrastinate no more and Cowboy Bebop/Firefly Munchkin will (FINALLY) be a reality! I'll be sure to post pictures of the festivities and general geeky awesomeness. But what else should we play? How are you celebrating TableTop Day? Tell us some of YOUR favorite board games!