Four (4!) performances of the most AWESOMEST concert ever (IMHO) are imminent, as is FanimeCon. Are you ready?!? We've got several surprises in store for you this weekend; you do NOT want to miss out! I am working on a Hideo schedule of events (which I will then make available here), but until then here's an idea of what we're planning:
If you're attending FanimeCon 2012, find us in the Dealer's Hall selling tickets, tees, the graphic novel, CDs (including our new Live EP!), and posters all four days with the fabulous Dan Howard, who will have prints available in addition to drawing commissions on-site. We'll also be playing live music at the booth on Fri, Sun, and Mon, so come by and request your favorite anime or video game tune!
We'll be doing four performances of the full-scale show across the street from the con at the Montgomery Theater at 2pm and 8pm both Sat (5/26) and Sun (5/27). Tickets are only $25, general admission, and you can get yours (right now!) over at the Tickets page. Everyone attending the opening performance at 2pm on Sat will get a FREE poster from the 2010 premiere!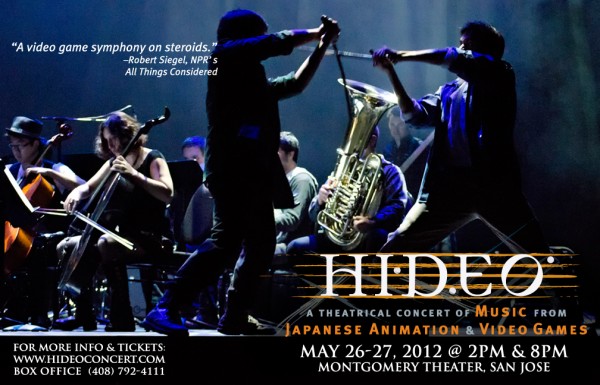 Hideo involves a LOT of original art—both for the projections used in the show and for the new graphic novel—and this month we have a gallery at Books Inc. in Berkeley. Join us for a reception with all the artists and Schyler (who wrote the graphic novel in addition to all the Hideo shows) at the store on Mon (5/28) from 5-8pm! Tasty treats will be served. ^_^
If you can't make it to the gallery reception but ARE attending FanimeCon, you can meet the amazing artists behind the Hideo graphic novel–Jessica Fong and Christine Liao–at table 111 in Artist Alley. They'll be stopping by the Hideo booth and available after the performances to sign their Hideo-related work, but you're missing out if you don't stop by their table to check out some of their other work! Here are some samples of the prints they'll have available at the con:
AND we've got a few other things in the works, but I'll leave you with that and go back to furiously whittling down my to-do list. @[email protected]