I hinted at this in my last post, but now it's one hundred and ten percent official: we'll be doing not just one but FOUR performances of the full-scale show at the historic Montgomery Theater in Downtown San Jose alongside FanimeCon 2012 in May!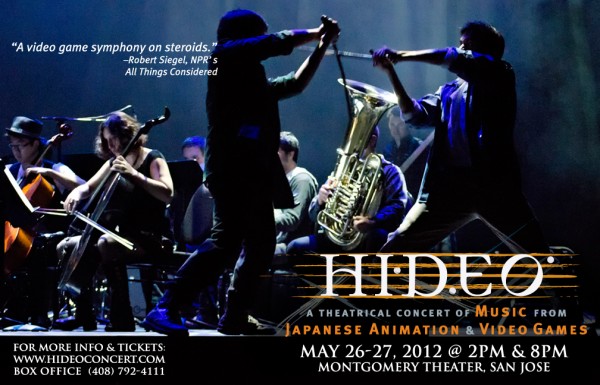 I am SUPER excited. We've never had an opportunity to do more than one show at a time, and now we're doing four. FOUR!! And even if you've seen one of our previous performances, you won't want to miss this year's show. We've made some minor tweaks to the story and have added a new musical number – and possibly some audience involvement

– in addition to swapping out one of the songs used last year. OMG CAN'T WAIT!
Tickets are $25 and may be purchased via the SJTix Box office or head over to our Tickets page to equip some Hideo goodies along with your tickets. We'll also be in the Dealer's Hall during Fanime – playing live music and taking requests! – so if you're planning on attending the con, be sure to stop by our table to say howdy! Oh, and to buy tickets (and maybe even a t-shirt) too, of course. ^_^